YOGARASAYANA INDIA RETREAT:
into the stories
 FALL 2017
KERALA, SOUTH INDIA, NORTH INDIA
September 28 – October 17
with
Arun Deva and Jutta Hecht
Yoga, Ayurveda, Temples, Palaces, Forts, Taj Mahal, Regional Cuisines, Tiger Reserve and more…
India is a land full of ancient stories, myths, parables and other ways of conveying deep truths. Through stories called puranas the deep philosophies of yoga are shown as mythological events.
This Retreat is about experiencing some of India's sights, sounds, colors, smells and immensely alive canvas.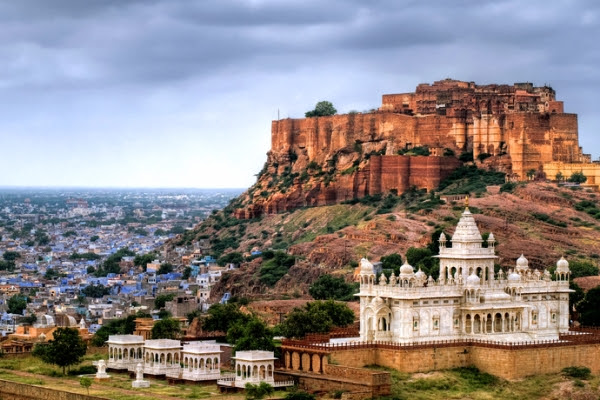 We will also share some of these stories to heighten the experience of the places we visit… 
ITINERARY:
SOMATHEERAM AYURVEDIC BEACH RESORT:
Sept 28: Arrive Trivandrum early morning: transported on to Somatheeram/Manaltheeram
Sept 28-Oct 2: 5 days of rejuvenation massages, yoga, ayurveda, sightseeing and yummy foods. And of course stories in the evening.
Soak it in as you get acclimatized!
The resort is spread lushly over 15 acres of greenery on a hilltop overlooking Chowara Beach, south of Kovalam and a short drive away from Trivandrum. The gently sloping grounds are sprinkled with traditional thatched cottages and Kerala style wooden bungalows, nestled among native medicinal plants and coconut groves. We will stay in the Special and/or Garden Cottages; independent thatched huts rooming two people.
It is a short walk down to the beach for swimming, morning or evening walks. Along the way down is the swimming pool where you can rest during the day sipping fresh coconut water! The resort has outdoor and indoor yoga rooms. Climbing up the hill you arrive at the Rejuvenation Center with a full staff of Ayurvedic Doctors, where you will receive your daily treatments including abhyanga and shirodhara, Kerala style!
The resort has a thatched restaurant with a panoramic view of the ocean, and delicious Ayurvedically prepared meals (3 vegetarian, dosha specific meals a day are included)
Finally, we will visit Kanyakumari, the southernmost tip of India for a breathtaking sunrise!
SOUTH INDIA:
Oct 3/4: Fly to Chennai and make our way to Mahabalipuram. Stay overnight overlooking the beach. Next morning visit the Beach Temples and Great Chariots and discover the magical stories behind them, including from the Mahabharata. After a late lunch, continue on to Pondicherry, a short drive away.
Oct 4-7: Pondicherry, the once French enclave, home to Aurobindo, the iconic yogi and great freedom fighter who became a living saint. This quaint town has much beauty and some of the best foods to share with us. We will visit Auroville, a visionary eco-system global city that inspires us to live in harmony with nature and each other: wherever we may be from. Here too we will sit in lush gardens between massive banyan trees whose roots walk on to make new trees themselves. And the spaceship-like golden Matra Mandir for a deep meditative experience.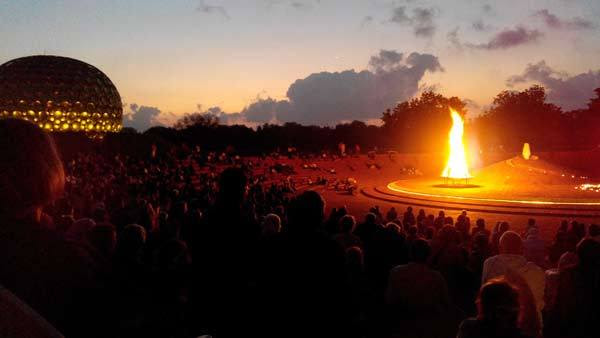 Oct 7-9: On to Arunachala the sacred mountain, said to be Lord Siva himself! Boy, will we share stories here in the little town of the world famous saint, Ramana Maharishi. Along the way we will visit a small Hanuman temple and a left over temple complex that is not on the beaten track.

Oct 9: After an early morning climb to Ramana Maharishi's cave of enlightenment and a hearty breakfast we drive back to Chennai to catch out flight to Delhi.
NORTH INDIA:
Oct 10/11: Vrindavan! Famous as the home of the cowherd Lord Krishna. Long before he became the Teacher of the Bhagavad Gita and it is here we will here stories from his life and the message of love and unity hidden deep in the Gita for all to find. Visit the sacred cows at the Neem Karoli Baba Ashram and you will see the love in their eyes when they come to greet you. Next day, hop in the bus for a quick ride to the Taj Mahal in Agra. If you have never been here, it is easy to feel awed by it. Or wander around to your hearts content in the home of Lord Krishna if you have already seen the Taj.
Oct 12: We drive to Sawai Madhopur/Ranthambore to visit the jungle and its inhabitants: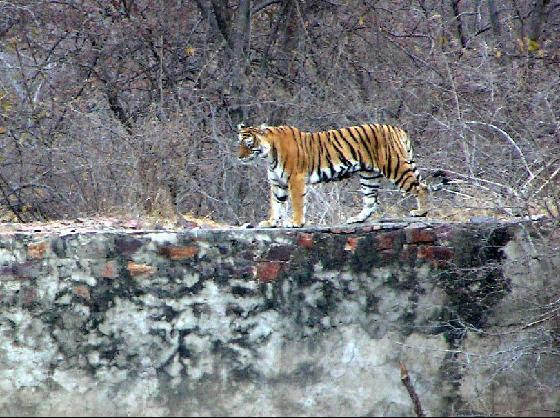 Oct 13/14:  colorful, exotic birds, the spotted (and other) deer, antelope, wild boar, crocodiles, possibly leopards and bear. While it is never guaranteed, this is the best National Park to see the majestic tiger. We will also visit a hilltop fort with a stunning view, a beautiful Ganesh Temple and an off the path Tantric Kali/Shiva Temple to do puja in.
Oct 15: Drive to Jaipur, the Pink City. The very heart of this magical land called Rajasthan.
Oct 16/17: Amber Palace by elephant if possible, City Palace, and our favorite place to stay: Diggi Palace. Yes we end our trip very royally. Majestically. And of course, the stories of the romances of the Rajasthani princesses and heroism of their men.
Oct 17: Afternoon flight to Delhi. Straight to the Friends Colony N Block Market for a last minute shopping frenzy. An amazing final Indian dinner. Rest up at the hotel. And for most an early morning of the 18th flight home.

Registration opens April 15.
Write adretreats@gmail.com for a pre-Registration Special of $100 off the Early Bird Price. (Valid for all email inquiries received by April 1)
Early Bird Special: $3900
(Deposit of $500 will hold your space and price till May 31. (After that the deposit will be applied towards the next applicable tier)
Regular Price: $4450
(Applicable to all deposits made after May 31 and all payments completed by June 30)
Late Registration: $4700
(Payments made after June 30. Space available)
2 Week Retreat options available: write adretreats@gmail.com
Sivananda Yoga Farm, Grass Valley, CA. April 7-9, 2017

This time around, it is less theory and almost all practicum. So, you actually get a taste for why I keep teaching this stuff. This Emotional Intelligence Stuff. The stuff that when functioning clearly, innocently, joyously leads to clear, innocent, joyous thinking and thus actions. Those that support us instead of bushwhacking us. Every. Single. Time.
REGISTER HERE FOR GRASS VALLEY RETREAT
COMING UP LATER THIS SUMMER:
 GREECE 2017!
A YOGA & AYURVEDA RETREAT
JUNE 26 – JULY 6, 2017
"FREE FALL IN LOGIC: THE STUDY OF VINYASA KRAMA YOGA
W/SPECIAL REFERENCE TO AYURVEDA
WITH ARUN DEVA
ASHLEY FIALA
VIVI LETSOU
AT ZEN ROCKS, MANI, GREECE
HOSTED BY NYSY YOGA, ATHENS
AVOCADO VEGETARIAN CAFE, ATHENS
ARUNACHALA YOGA & AYURVEDA, LOS ANGELES
$2250 Early Bird Price/$2550 After April 30, 2017.
A deposit of $500 will hold your spot and price till April 30.
After that, your deposit will apply only towards the Full Price*.
INFORMATION: ADretreats@gmail.com
REGISTER HERE
(Once we receive your Registration Form, a link for payment through Paypal will be sent to you. If you wish to pay by check, please note that in your Registration Form along with your telephone number.)
The Details:
Vinyāsa Krama literally means the methodology of a fluid practice within set parameters. There are 10 primary and one auxiliary sequences that make up the logic and freedom of the Vinyāsa style of practice in yoga. Within this logic happens the exhilaration of a free fall! This is the possibility inherent within the flexibility of the variations. Then there is the pranayama's, the chanting, the meditations.
Ayurveda: So as not to get injured when the practice is not based on a sounder personal logic, the magic of Ayurveda makes sure we stay on the correct trajectory of our free fall: the health and wellbeing we are all seeking to create in our yoga. We will also practice daily living modalities from Ayurveda and study its basic principles.